DKIM provides authentication to the emails using the mechanism of public key encryption. Without DKIM emails can be rejected or move the recipient SPAM Folder. Please refer to the following steps to add DKIM Record in MailEnable.
Expand the PostOffice and Click on Domains.


Right-Click on the Domain you want to set the DKIM and click on the properties.




Select the DKIM (DomainKeys) and click on the Configure Button.




Set the below DKIM Settings.
Tick the Sign Outgoing messages
Encryption algorithm : rsa-sha256
Click on New Selector
Enter the new selector name: default.domainkey
keysize : 2048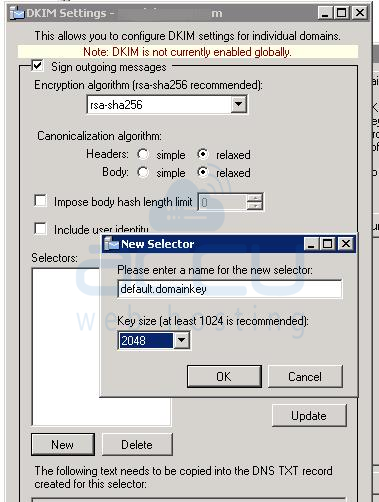 Click on OK Button on New Selector and it will generate the DKIM Record.




Copy the generated DKIM Record and add it to your DNS as TXT Record.