We have installed the ClamAV anti-virus plugin in our Shared Web Hosting Server. Each cPanel user is allowed to scan the Entire Home Directory, Mail, Public FTP Space, and Public Web Space from cPanel. 
This article will assist you in running a ClamAV virus scan from cPanel. 
1. Log in to your cPanel account.
2. Under the Advanced section, click on the Virus Scanner option.

3. You will get four options to scan your web hosting space on the next screen.
Select the appropriate radio button and click the Scan Now button to start a new scan. For this example, we are scanning the Entire Home Directory.
Scan Mail
Scan Entire Home Directory
Scan Public Web Space
Scan Public FTP Space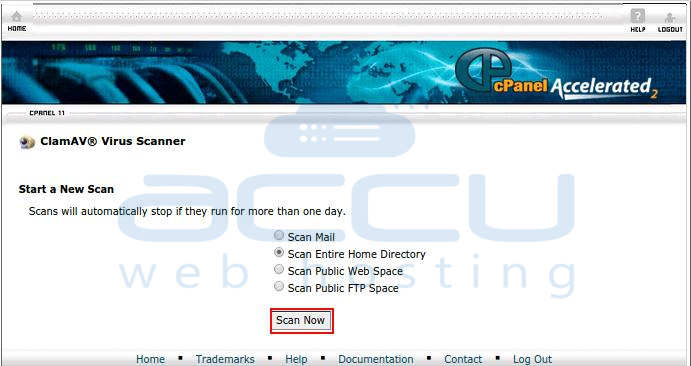 4. Once the selected scan is completed, you will get a scan report.
If any infected files are found under the selected category, the scan report will list them along with the path in the Infected Files box.
5. Click OK on the confirmation window to launch the Cleanup Process window.
6. A list of infected files will be populated on the Cleanup Process window. 
Note
You can choose what actions you want to take on the infected files from Quarantine, Destroy and Ignore.
You can leave the infected file selections in the Quarantine column to place these files outside the /public_html directory so that the files can't be accessed from outside.
You can remove (Destroy option) infected files or ignore them if you wish. 
7. Once you select the appropriate operation, click on Process Cleanup.
If no virus is found during the ClamAV scan, you will receive a message - "Virus Scan Complete. No Virus Found."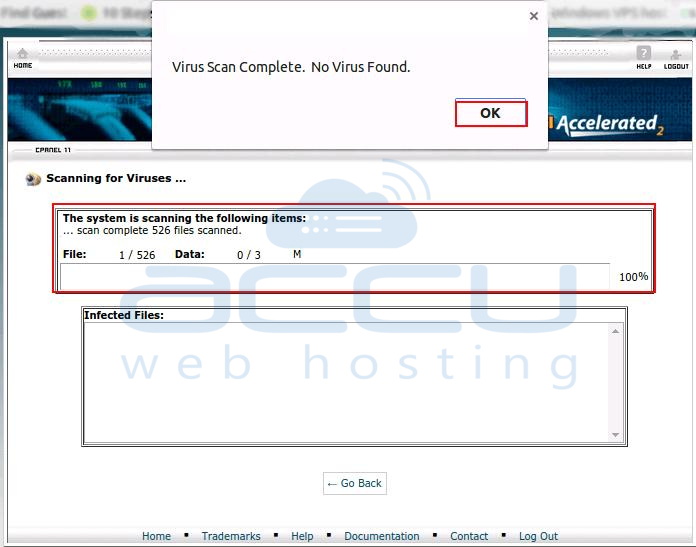 Therefore, executing these steps will be sufficient to run the ClamAV virus scan from cPanel.