We will add the DKIM record as a TXT record in DNS. Please refer to the following steps to add the DKIM record on the Windows server. 
If you are referring to create a DKIM record, you should first refer to the below articles.
(1) How to create a DKIM record in Smartermail?
(2) How to create a DKIM record in MailEnable?
Here is an example of a DKIM record:
 Record Name/DKIM Selector

 Record  type

 Fully Qualified Domain name  (FQDN)

 Record Data

8D8xxxxxxxx4BF6

TXT

8D8xxxxxxxx4BF6._domainKey
.demovpstest.com

p=xxxxxxxxxxxxxxxxxxxxxxxxxxxxxxxxxxxxxxxxx
xxxxxxxxxxxxxxxxxxxxxxxxxxxxxx/v9TTwmphHab
WeuW50BZConBpNrXBbvj2d2a98ink0oy4vEr2aV
QN8jTdJxH9XmTLmTHFqv9wCiIg/k+MUsNMUp6
MD9X6mqXEcl7V4Zp1JiVlmvdKuDUK8b5QkiC3rX
Kpr1MiOJwYEBGcz6gVlqLxxxxxxxxxxxxxxxxxxxxx
xxxxxxxxxxxxxxxxxxxxxxxxxxxxxxxxxxxxxxxxxxxxxx
xxxxxxxxSuEx2iSbeOSbpuguyI1P3M2M3bC8x+Nep
GHKIYuUzn/rOaiMbha9gcAerhC0eoBMz/T1oJQke
WWwIDAQAB
If you have created the DKIM record in Smartermail, it should look like as below.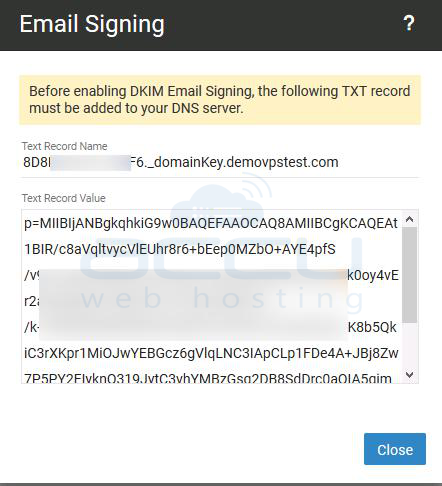 Log in to your windows server. Click on Start >> Windows Administrative Tools. 


Click on DNS.


Inside the forward lookup zone, double click on the domain for which you want to set the DKIM record. 


Right-click on the blank space where all the DNS records are added and click on the Other New Records.


From the drop-down, select Text (TXT) Record and click on the Create Record button. 


At first, Enter the record name. It should be like 8D8xxxxxxxx4BF6._domainKey, so your FQDN becomes 8D8xxxxxxxx4BF6._domainKey.yourdomain.com. Inside Text, enter the text record value. 


Once you add the record, click on the OK button and click on Done at Resource Record Type.