One of our users was trying to access his website with SSL encryption using HTTPS but received the error: SSL_ERROR_BAD_CERT_DOMAIN. This error can be occurred due to a configuration issue with the installed SSL certificate on your website. You may find this error in firefox.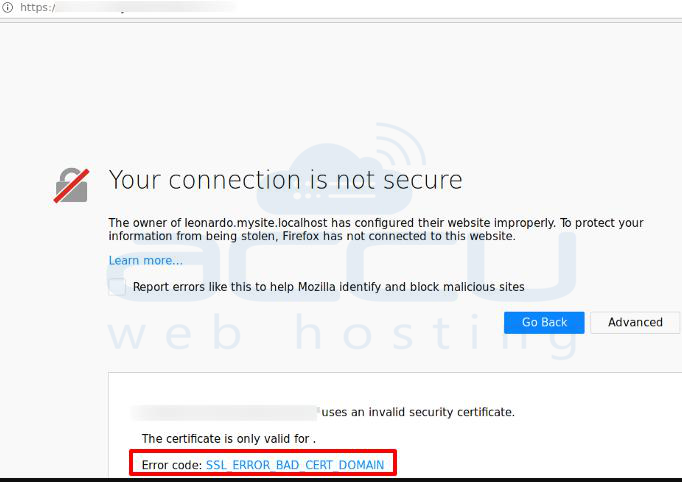 What may cause an error SSL_ERROR_BAD_CERT_DOMAIN?
It is mandatory to install an SSL Certificate on the website to run it with encryption using HTTPS. While switching the website from HTTP to HTTPS, you may find such issues. Here are some scenarios that may cause this issue. We have also added the resolutions to these causes as well.
(1) The website doesn't have an SSL Certificate installed
The website name you have entered in the browser doesn't have an SSL certificate installed and not working with HTTPS.
Resolution: You will need to make sure that the website does have a valid SSL Certificate installed on it. Looking to install an SSL Certificate? Please refer to How to activate SSL Certificate.
(2) Incorrect Domain name in SSL Certificate 
You will need to make sure the domain name used for the SSL Certificate is typed correctly while purchasing the SSL. 
Resolution: Make sure you have typed your domain name correctly while purchasing an SSL Certificate for your domain. Please recheck it with your SSL Vendor. Then, if you have made the same mistake, you can reissue the SSL Certificate with them with the correct domain name. 
(3) Misconfiguration in SSL Certificate setup
It is possible to receive the same error if there is any misconfiguration occurred while installing the SSL Certificate. 
Resolution: If both of the above steps are correct, you will need to check for any misconfiguration with your SSL setup. You can reinstall the SSL Certificate and verify that the domain has an SSL Certificate installed correctly. If you are looking to verify SSL installation, please go to verify SSL and verify that website has the correct SSL Certificate installed on it. 
→ Looking to activate an SSL Certificate? Please refer to How to activate SSL Certificate.
(4) Error due to browser cache
After installing SSL, the error should be fixed, but it might be possible that your browser is displaying the website from the cache, and you are receiving this error locally. If you are sure that all the above 3 are correct, then you can perform the below steps. 

Resolution: Please follow the steps to clear the web browser cache, cookies, and browsing history. 
1. Open your firefox.
2. Click on three lines at the top left corner. Click on Library >> History.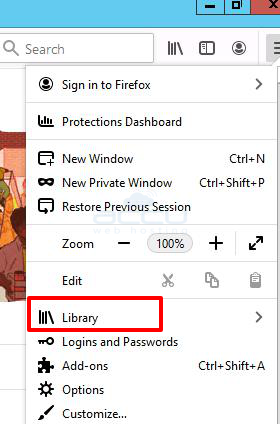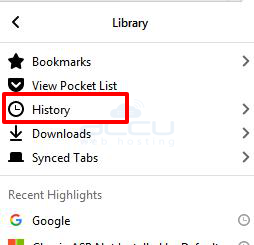 3. Click on the clear recent history button.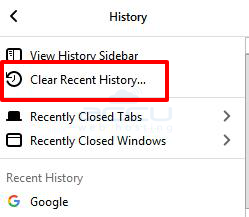 4. It will open a dialogue box. You can select the time range or everything per your requirement and untick all except cookies, cache, and offline website data. 


5. Click on the OK button and try to load your website again.
---