When we try to set or to change the password in Windows Server 2008 Operating System, we may face the problem as illustrated in the below image.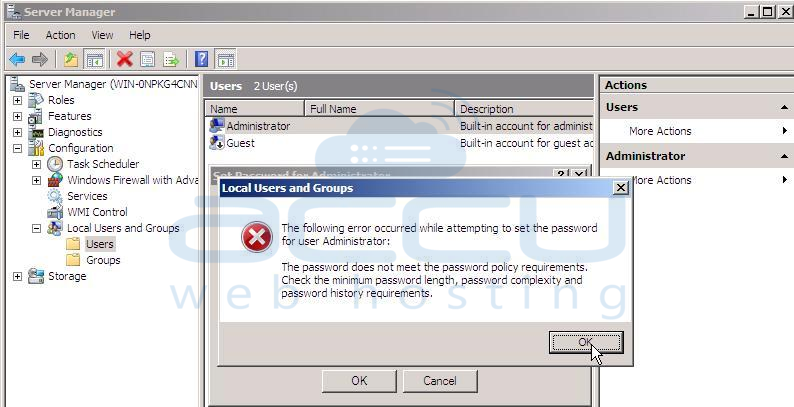 This article will guide you on how to resolve this error while changing a password in Windows Server 2008 O.S. VPS by setting the password policy.

In order to resolve this error, we need to disable the password policy of the Operating System. As an alternative, we can change the password policy by modifying the Minimum password length.
Follow the below-mentioned steps, in order to invoke Password Policy console:
Click on Start → Administrative Tools → Local Security Policy → expand Account Policy → select Password Policy.


Right click on the option Password must meet complexity requirements → select Properties.




Click on the Disabled button. This will disable the password policy. As an alternative, if you do not want to disable the policy, then you can modify the minimum password length by entering the required digits in its properties window.




Now, in order to update the policy, we need to run a command utility 'gpupdate' in the below mentioned path:
Click on Start → Run → gpupdate.


Now, you should not face the problem while setting or changing the password of your user account.