Root user in linux is a particular group that has permission to do almost everything. The root user is the superuser, meaning they have complete control over the system. Only users belonging to the root group can log in directly to the root account without sudo.
What does the root user mean in a Linux system? How can you change the root user password from WHM?
The root user is the superuser or administrator of the operating system. In Unix systems, the root account has complete access to the entire file system. A user account named root is created automatically during the WHM/cPanel panel installation.
If you want to change the root user account password, follow these steps.
Step 1. Log into WHM.
Step 2. Go to Server Configuration -> Change Root Password menu.
Step 3. Enter the new password in the New root Password and Confirm Password fields (for a stronger password, use the built-in Password Generator).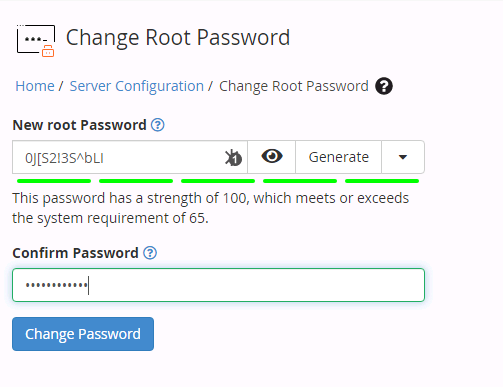 Step 4. Click the Change Password button once you complete the process.
It is not necessary to reboot the server when changing passwords via WHM. Also, you are strongly advised to use a secure password. Secure passwords do not contain dictionary words, and they include Uppercase and lowercase letters, Numbers, and Symbols.
That's it!