cPanel's intuitive user interface and necessary tasks for your website or server can be completed with just a few clicks. Using cPanel's built-in File Manager, you can easily create new folders.
Your website will be easier to manage if you use folders to organize and structure your files. You can easily create new folders using the cPanel File Manager.
Follow the below-given steps to create a new folder from the cPanel File manager,
1. Log in to your cPanel account.
2. Navigate to the Files section and click on File Manager.

3. To create a folder, click on the '+ Folder' icon in the tools stripe at the top left side.
4. When you click +Folder, a pop-up form will appear.
5. On that form, type the name you want for the folder on the top line and add its destination on the bottom line.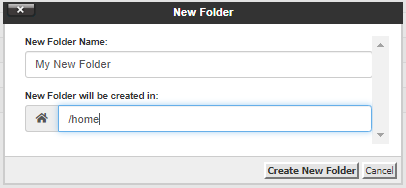 6. After completion, click the Create New Folder button.
7. The new folder will then be created in your specified location.
By following the above-given steps, you can create a new folder in the file manager of cPanel.

---