WordPress allows publishing your posts at your scheduled time; however, you will find this feature slightly hidden from plain sight. If the user is a beginner, they may not have been aware of this feature. You can write your post at any time, and using the WordPress schedule option, you can easily publish it at a specific time, i.e., on the date and time of your choice.
Why Should I Use Scheduled Posts in WordPress?
If you publish your post on a date and time when your website is at its peak of users, you can take advantage of peak traffic hours to leverage that traffic and increase page views. In addition, you can utilize the scheduled post option if your users are in a different time zone. For example, the peak hours on your website are between 12:00 AM to 03:00 AM; scheduling posts will be helpful in this case.
This article will show you how to schedule posts in WordPress. Using this function, you can set your post to be published automatically in the future.
Refer to the steps listed below to set the post schedule in WordPress –  
Log in to the WordPress Admin Dashboard.





In the Dashboard, click on

 Post >> Add new.



Enter and save your post.





Click on the

Publish button.



You will see an option 

Publish: Immediately.


Click and expand it.
6. Choose your preferred time and date when you want to publish your post and click on the Schedule button.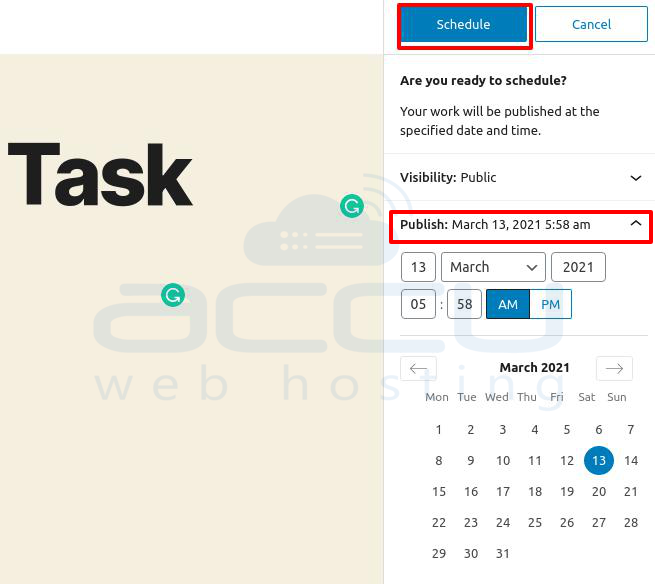 7. Your post will now be automatically published on your selected date and time.
Does your WordPress miss the scheduled post?
If yes, we have made a tutorial that might help you. Please refer to the article –  How to Fix Missed Scheduled Posts in WordPress?
---