Generally, Deceptive site ahead message occurs while browsing the website on Google Chrome. It prevents the user to access that website because it has harmful content due to malware. In this case, the website is under attack or issue with Data Security.
You will receive the Deceptive site ahead message as per the following image. Once you get this kind of message on your website, you will need to take the actions immediately to resolve this.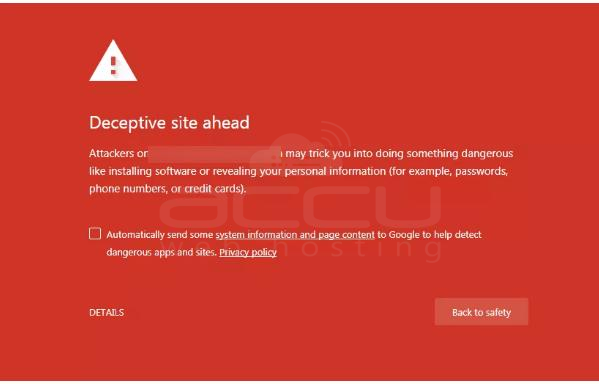 Main reason behind his is Malware/Harmful content on Website. However, there are few possibilities which cause of Deceptive Site Ahead Message which are Website without SSL Certificate or improper installation of SSL Certificate, Website Traffic is not redirected to HTTPS, Mixed Content, Compromised Themes and Plugins of Wordpress.
Following are the Fix of Deceptive Site Ahead Message.
(A) Set on Updated Version :
If you are running any Wordpress, Joomla, Drupal and other third-party scripts, please make sure you update it with its plugins and themes as well. Also, make sure you download the themes and plugins from the trusted sources.
(B) Mixed Content :
Once you install ssl and redirect the website to https, there might be some links/pages of website with HTTP. This is called Mixed Content. You will need to change these links to https to resolve Mixed content warning. You can involve your developer for this.  
(C) Website Redirection to HTTPS :
Sometimes SSL is installed on website but if it is not redirected to https which may lead to giving error while accessing the website. If your website is hosted on Linux cPanel, you can set redirection rule in .htaccess file. (Link of https redirection in .htaccess) If the website is hosted on IIS, you will need to set URL Rewrite Rule.(Link of https redirection in IIS).
(D) Scan website using Anti-Malware tool :
As we have mentioned above, main reason for this cause is Malware or Harmful files. Hence, first of all, Download the website content to your local system and scan with the Anti Malware tool. You will need to make sure that your local system is not infected with the Virus as well. Malware tool will list the files which are infected. Remove those files and upload the content using FTP to server again.  
(E) SSL Certificate Installation :
All the Main Browsers like Google Chrome, Mozilla Firefox, etc validate the certificate from trusted/verified certificate Authority which is Comodo, Geotrust, Digicert etc. It is recommended to use the certificate of these SSL vendors instead of using self-signed certificates. You can click on this link to know SSL Installation process.