Microsoft suggests using the TLS 1.2 Security Encryption to their clients since it has the Advanced Encryption Standard. Also, it recommends disabling the RC4 cipher from your Windows Server.
Following steps will help you to completely Disable the RC4 cipher in your Window 2008 Server.
Login to your Window Server.


Click Start >> Run


In Run Open the Registry with regedit command.




Locate the following path.
HKEY_LOCAL_MACHINE\SYSTEM\CurrentControlSet\Control\SecurityProviders\SCHANNEL\Ciphers
Right Click on the Ciphers and create the Following 3 New Keys.
          RC4 128/128
          RC4 40/128
          RC4 56/128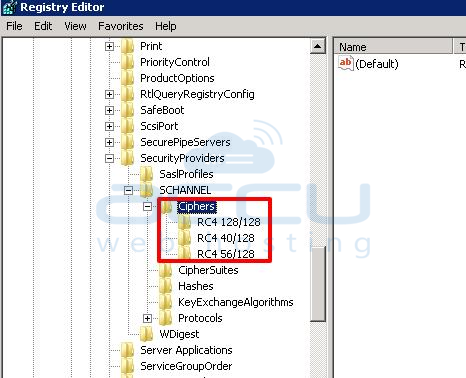 Right Click on the RC4 128/128 >> New >> Click on DWORD(32-bit)Value.




Rename the New Value #1 to Enabled.




Repeat the step no. (6) and (7) for Cipher RC4 40/128 and RC4 56/128.
Note: Your server will not be able to connect sites which require Cipher RC4 to connect.