Presentation is a great way to share information. It allows you to convey your message clearly, engagingly, visually, and verbally. A well-designed presentation can capture your audience's attention, keep them interested, and share your message effectively. It is possible to make complex or abstract ideas more accessible, memorable, and understandable through presentations when done correctly.
What are Google Slides?
Google developed Google Slides as part of Google Workspace productivity. It is a web-based free presentation software with themes, templates, fonts, and shapes that help design and customize presentations.
Embedding a Google Slides presentation on the website can keep visitors engaged and on your site longer. When you embed a presentation, visitors can view it directly on your site without leaving the page, going to a separate page, or downloading a file.
But how do you embed these engaging slides into your site?
This blog will explore the simple steps to add Google Slides to your site and enhance the user experience.
Let us get started!
Add Google Slides Presentations to the Website
To embed a Google Slides presentation in your website, you first need to create an embed code from the Google Slides presentation and then add that code to your website.
For doing this, you can follow these steps –
I. Create Google Slides Presentation URL
1. To create a URL, open the Google Slides Presentation you want to share.
2. Click on the "File" menu, then select the "Publish to the Web" option from the drop-down menu.
3. Click the "Embed" tab from the "Publish to the Web" dialogue box. Then click the "Publish" button to publish the presentation.
4. Once you have selected your options, click the "Publish" button.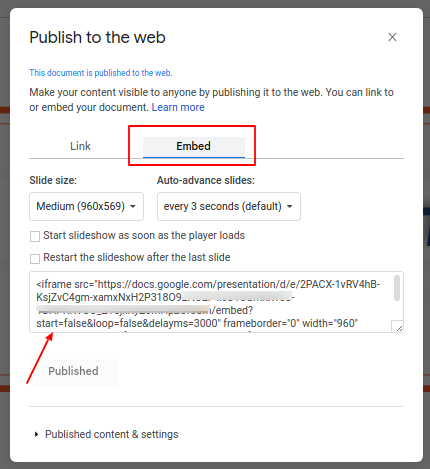 5. Copy the embed code displayed in the "Embed code" section.
6. Once you get the copy of the embed code of Google Slider, add it to WordPress.
II. Embed Google Slides on the Website
After you have copied the embed code, you are well on your way to adding a Google Slides presentation to the website. It will allow for the easy sharing of essential information while adding a compelling element to your website.
So, here is how you can integrate a Google Slides presentation into your website –
1. Go to the webpage where you would like to embed the presentation.
2. In the HTML code of the webpage where you wish the presentation to appear, paste the embed code.
3. Save and publish the webpage.
4. The presentation should now be embedded on the webpage and visible to visitors.
---
How to Embed Google Slides in WordPress?
1. Log in to your WordPress dashboard and create a new post or page whenever you want to add the Google Slides presentation.
2. Switch to the Code Editor from the left-hand side or simply press the ctrl+Shift+Alt+M keys to switch to the code editor if you are in a visual editor.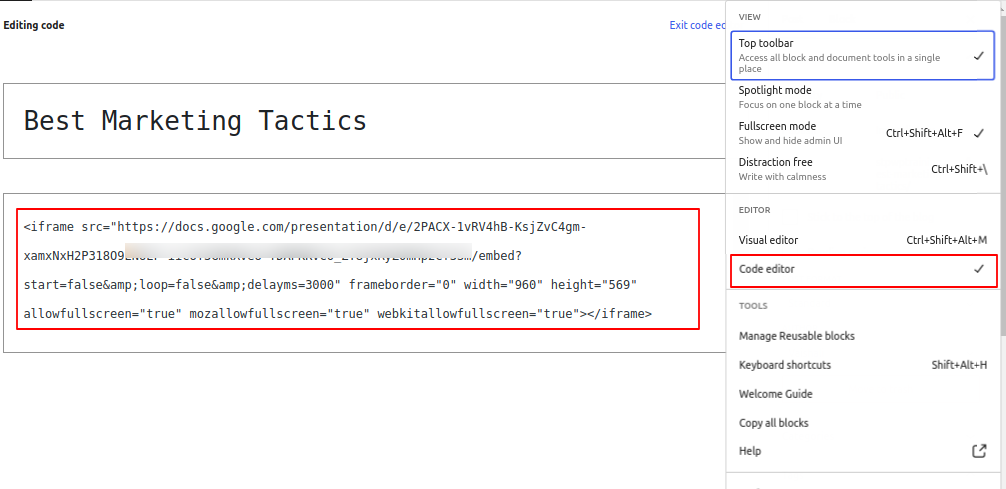 3. Paste the Google Slide presentation embed code there.
4. Then test how your Google Slides presentation will appear on the WordPress website before publishing by selecting the "Preview" button from the top-left corner and verify that the presentation you see is as you need it to be on your website.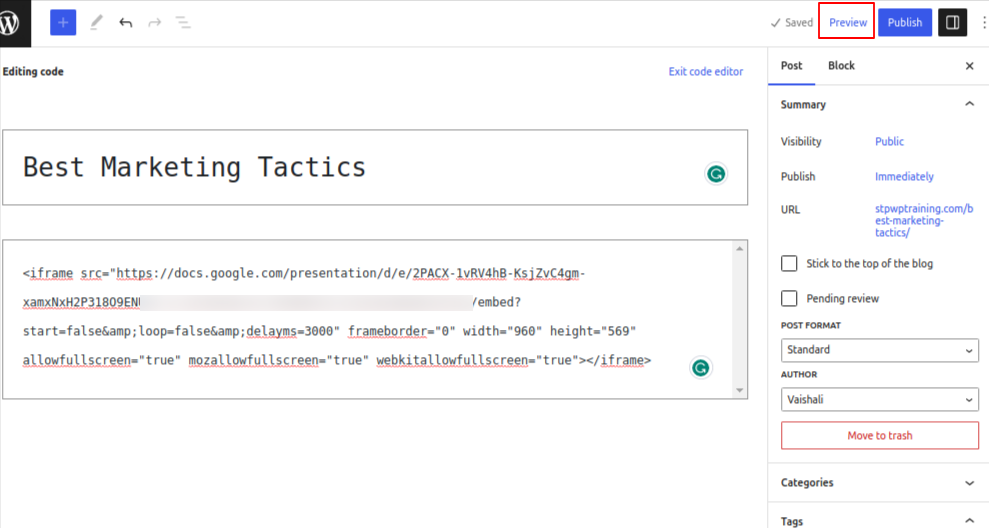 5. Once you are satisfied with the setup, click on the "Publish" button to publish the presentation in WordPress.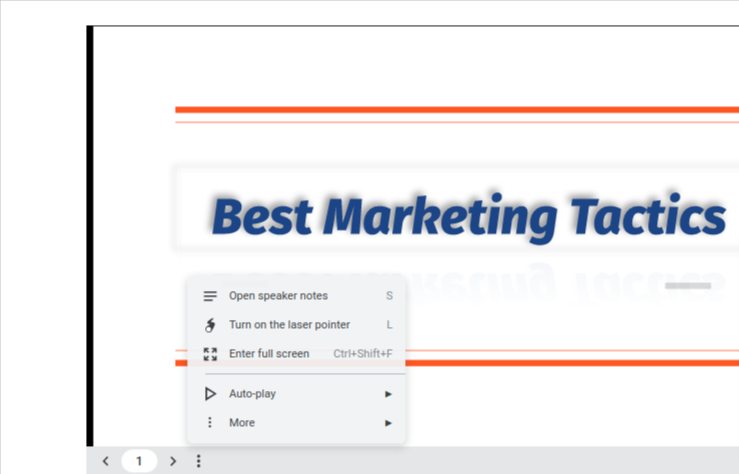 6. Once the page is set up as desired, click the "Publish" button.
Now, the Google Slides presentation will be embedded and ready to view.
After publishing, visit the page you can see there.
You will also get the option by clicking the ellipsis (…) of Auto-play, Enter Full screen, and Open Speaker Notes.
Conclusion
Google Slides is a powerful tool to help you create visually appealing presentations embedded in your website. With a wide range of design templates and editing features, Google Slides allows you to create engaging presentations that can help you convey your message effectively.
Additionally, Google Slides makes it easy to collaborate with others in real-time. Adding Google Slides on your website can significantly enhance your content and user engagement for your visitors.
So, with these simple steps, sharing a Google Slides presentation is now as easy as adding a few lines of code!
Therefore, you can smoothly embed Google Slides into your website and enhance the user experience as you will be on your way to making engaging presentations that will keep users coming back for more!