It is possible to set up the email alerts on MT4/MT5 each time any event occurs. Events such as executed any order, amount crossed the stop-loss limit, etc. To set up this, you will first need to enable email notifications. You need two email account here. (1) The email account from which you want to send the email alert (2) From where you wish to receive the email alert.
If you are looking to send the email alerts from a Gmail account, you will need to turn on the Less secure app in Gmail at your own risk. If it is Off, Gmail will block the application, and you will not be allowed to use the Gmail service to send email alerts from MT4/MT5. Once you don't want to use email alerts, we recommend setting it off. 
How to allow a less secure app in Gmail?
Log in to your Gmail account.


Click on this link https://www.google.com/settings/security/lesssecureapps


Turn on the Allow less secure apps option. 


How to set up email notifications in MT5?
Log in to your Windows Server.


Open your MT5 account.


Go to the tools and click on the options button. 


Click on the email tab and check the Enable email notification check box. 


SMTP Server: Your SMTP server details. If you want to send an email from Gmail, enter smtp.gmail.com.


SMTP Login: Email account from where you want to send the email.


SMTP Password: Password of email account


FROM: Enter the email account on which you want to receive the emails.


TO: Email account on which you want to receive email alerts.


Click on the Test button to test the email alerts.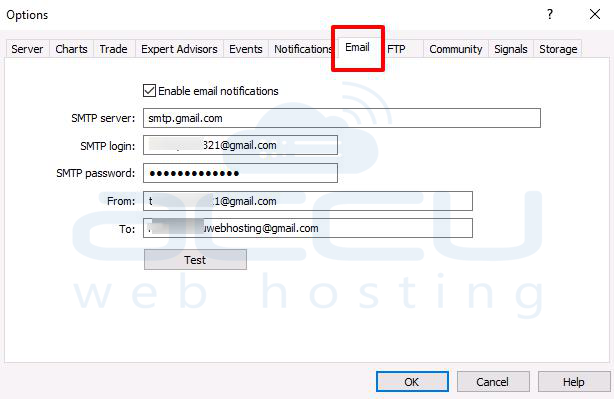 Once you click on the test button, you will receive an email to your "To" email address. Also, you can find the same message inside the journal at the bottom right In your MT4/MT5.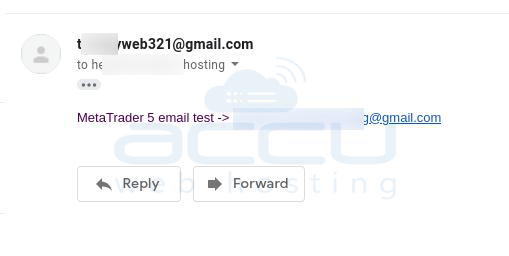 Finally, Click on the OK button.
Email notification is active now. You can set your MT4/MT5 email alert for your own algorithmic trading system.