As we all know, the internet is open and your server may receive threats of malware and Spywares at any point in time. Malware is malicious software built to harm or exploit your server program, service, application, or network. It is always essential to have the best Anti-Malware installed on your server to prevent any such issues. 
What is Anti Malware?
We can say it is software that protects your server against Malware and spyware. It can be installed on a server and scan the entire server at the regular interval. Many organizations handle it by scheduling the scanning while there is very little traffic on websites. Because the scanning process may slow down the server as it uses resources of the server. 
Here, we have mentioned free Anti-Malwares for the Windows-based server.
Free Anti Malware for Windows Server 
1. Windows defender (In-built)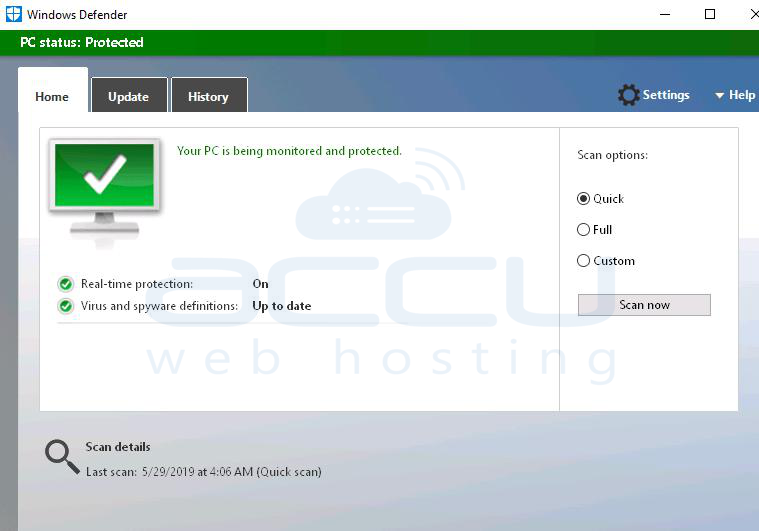 It is called Windows defender or Microsoft defender is an in-build and very-effective anti-malware tool for Windows Server 2016 and Windows server 2019. Windows Defender is a real-time security agent that monitors the windows system against the changes caused by the spyware. It is very easy to use as it offers GUI with Windows OS. It can protect Windows Server 2016/2019 against the known malware and also update the antimalware definitions via Windows Update at regular intervals. 
Features of Windows Defender
Real-time protection 

Firewall protection and threat detection

Multiple security benefits: protection against viruses, Trojans, ransomware, and other malware forms

Easy to use GUI 

Keep updated with Windows updates
2. Malwarebyte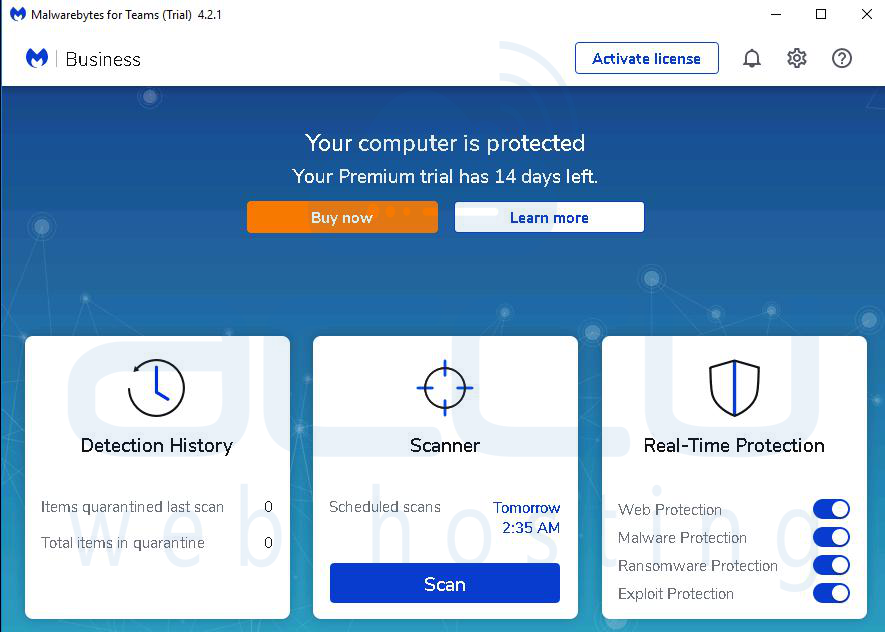 Malwarebyte is also a free and effective anti-malware tool that scans the windows system and removes possible threats. In the free version of Malwarebytes, you will need to start the scanning system manually. In the paid version, you can have features like schedules scan and real-time protection. If you have installed Malwarebyte, you don't need to install any separate anti-virus tool.
Features of Malwarebytes
Quick and efficient scan without slowing down the entire server

Supported to most of Windows Webserver

 

Cleanup the entire infected server or device

Protects your identity and privacy from hackers

Easy to use graphic interface
3. Xvirus Anti Malware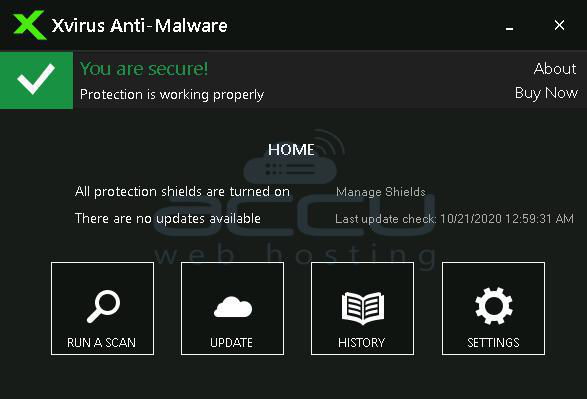 Xvirus is a free Anti-Malware with no ads, no adware, and no time limit. It can run side by side with your existing antivirus. 
Features of  Xvirus
Scan server for any sign of Malware

Easy to use and lightweight software

Protect server with real-time monitoring

Xvirus Anti-Malware updates itself automatically in the background!

4. Roguekiller Anti Malware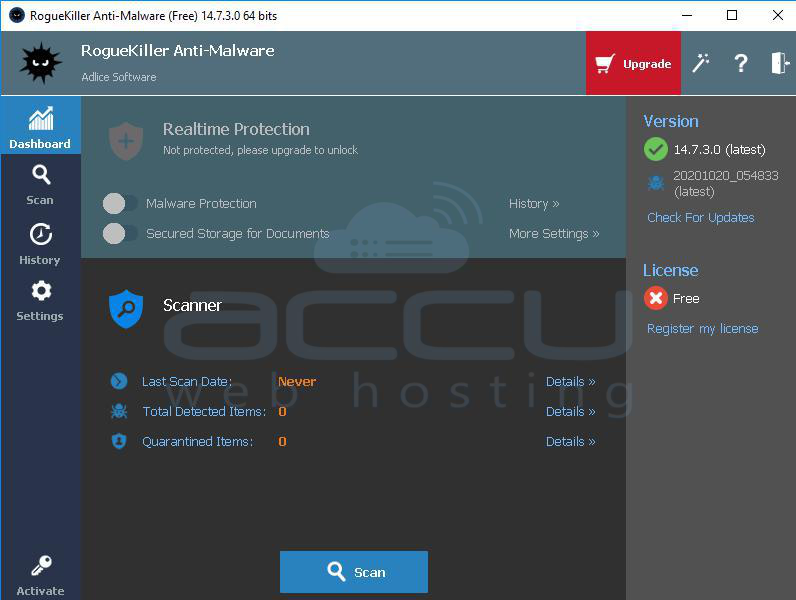 Roguekiller also offers a free version of the Anti-Malware service.  We can easily scan and remove the Malware and Spywares lying on the server. In the free version, they provide Anti-Rootkit to detect and remove the nastiest malicious rootkits. 
Features of  Roguekiller
Embedded Artificial Intelligence and Cloud signatures to find out malicious software

Detects ad removes known and unknown malware, whether they have already infected.

Real-time protection enabled.

Option on the dashboard to keep your version updated.

5. Gridinsoft Anti Malware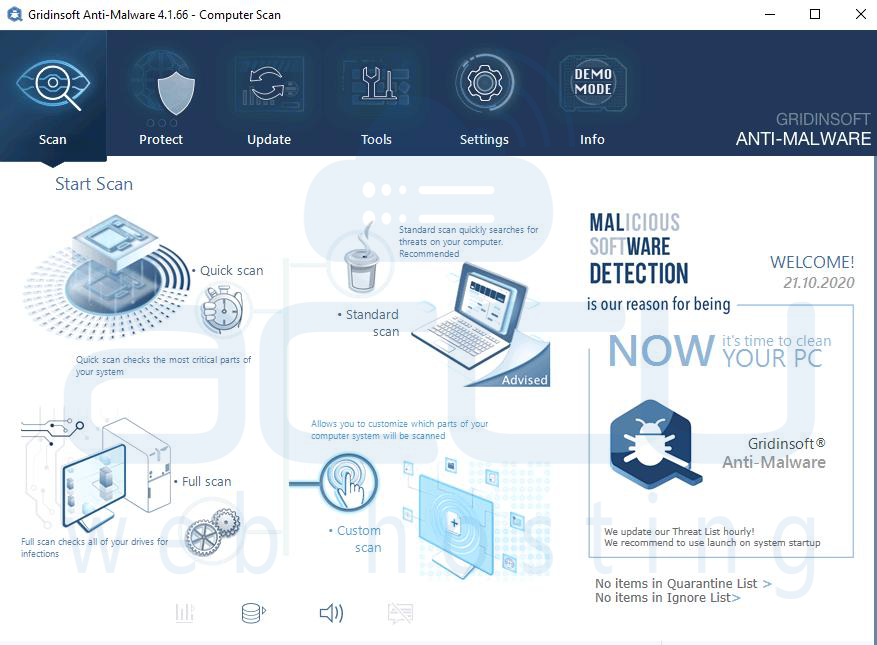 Gridinsoft Anti Malware comes with limited features in its free version. It can only scan the Windows machine and you need to remove the malicious files manually. It will give the notification with the path of such files and also provide the threat level of each suspicious program.
Features of Gridinsoft Anti Malware
Availability of Portable Trojan-killer

Offers different types of scan, scan logs and other extra tools.

Listing of all the quarantine files that can be restored or deleted to a safe location.




Free Anti Malware for Linux Server 
People think that Linux systems can't be infected but it is not true. You should install Anti Malware on your Linux server without fail to prevent malicious attacks.
1 . chkrootkit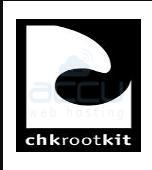 Chkrootkit or Check Rootkit is a Unix based program to check the Linux based system for known rootkits. Rootkits are a kind of malicious program that can compromise the root account and infect your server. It is very hard to detect and remove from the server. However, chkrootkit is the solution for such incidents. You can scan for different types of rootkits and find the logs for the deletion with chkrootkit. It will not automatically remove the infected files but it will give you the path of the files which are infected so you can remove or repair such files. After removing or repairing infected files, you can bring back your system to the original stats in case it is totally infected with the rootkit.
# yum update
# yum install wget gcc-c++ glibc-static
# wget -c ftp://ftp.pangeia.com.br/pub/seg/pac/chkrootkit.tar.gz
# tar –xf chkrootkit.tar.gz
# mkdir /usr/local/chkrootkit
# mv chkrootkit-0.xx/* /usr/local/chkrootkit
# cd /usr/local/chkrootkit
# make sense
<< output >>
# /usr/local/chkrootkit/chkrootkit


Features of chkrootkit 
Removes all kind of rootkits that can compromise root account

Takes very less time in scan and detect and effort-consuming

Checks the system binaries for any rootkit modification.
2 . rkhunter

RootKit Hunter or rkhunter can detect and remove the rootkits added to compromise your root account. It provides a full log at the file /var/log/rkhunter/rkhunter.log.  You can start scanning with just one command.
# yum -y install epel-release
# yum -y install rkhunter
# rkhunter -c
Features of  rkhunter
Flag the files that are modified

deliberately or accidentally.

Easy to find all kinds of rootkits

Run Manual as well as Scheduling Automatic Scans using cron.




3. ClamAV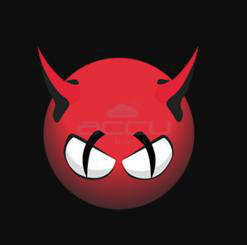 ClamAV is a popular and open-source antivirus/anti-malware that is used in website scanning, email scanning, and endpoint security. It offers a command line scanner and a tool to automatically update the database.
Here is the command to install and scan the ClamAV.
# yum -y install clamav
# freshclam
<< output >>
# clamscan -r -i /
 Features of  ClamAV

Command-line scanner with automatic update database

On-demand scanning option

Contains over 5,760,000 virus signatures